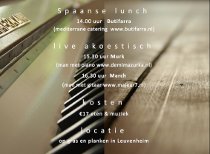 Graag nodigen we ieder die zin heeft uit voor ZONDAGMIDDAG 15 SEPTEMBER van 14.00 tot 18.00.
Eten
De keuken van Butifarra zal ons op locatie verblijden met een Spaanse lunch. Aanvang 14.00 uur stipt.
Muziek
Murk
Mark speelt in Mercy Giants (nieuw album!) en Demi Mazurka. Om zijn kunsten nog meer ruimte te bieden, is hij momenteel solo als Murk, op nieuwe piano, een album vol piano prachtigs aan het vastleggen. En van dat prachtigs mogen wij getuige zijn. Denk aan Satie, Chilly Gonzales en Rachels.
Review: De hypnotiserende, met de maan en sterren meedrijvende miniatuurverhalen laten horen dat Demi Mazurka weet hoe een compositie op te bouwen en een sfeer met zachte drang naar de hand te zetten…. http://demimazurka.nl/
March
Maarten is multiinstrumentalist, sound engineer met eigen studio, maar gelukkig ook nog 'gewoon' als muzikant actief in oa The Use of Ashes en Mercy Giants. Met March heeft hij in 2011 zijn eerste solo album uitgebracht. Ondertussen heeft hij nieuw materiaal dat hij graag in een intieme setting ten gehore wil brengen. Er vindt vast nog een symbiose plaats tussen Maarten en Mark.
Kosten
Muziek en eten €17
Alcohol, prik en sap voor weinig
Gratis koffie, thee en limonade.
Tijd
Eten, aanvang stipt om 14.00 uur
Muziek, 15.30 tot 17.30 uur.
Inschrijven
mail naar Leuvenheimlive@yahoo.com.