Paella, fideuà and other one-pot dishes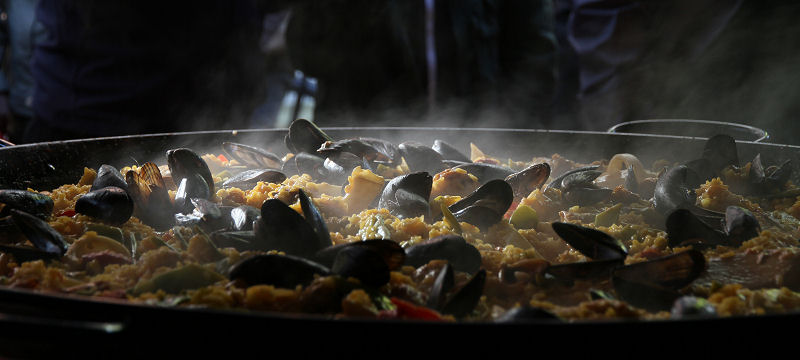 Our paella is prepared in the large traditional pans and we serve it with a selection of side dishes and salads. The entire cooking process will be visible: from the first chopped onion to the finishing touch of parsley.
For our rice dishes we use Bomba rice, which originates in the south of Spain. This rice is very special. While cooking, it absorbs over three times its own weight in moisture. All the tasty juices from the chicken, chorizo, seafood and vegetables are taken in.
Below you will find all our different options for paella. Of course a combination is always possible.
Paella de Verduras – rice with a variety of vegetables
Paella Mixta – rice with chicken, chorizo, seafood and squid.
Paella Valenciana – rice with beans, rabbit, chicken or pork and escargot.
Paella Marinera – rice with fish, seafood and squid.
Arroz Negro – Rice with different kinds of squid cooked in squid ink.
Arroz con Costra – rice with pork sausage and pork ribs, chicken and egg. This dish is cooked in the oven.
Fideuà Mixta – pasta with chicken, chorizo, seafood and squid.
We have a wide variety of traditional paella pans and burners, the largest being a meter in diameter. These allow us to cook meals for large groups of people in very little time.