Who we are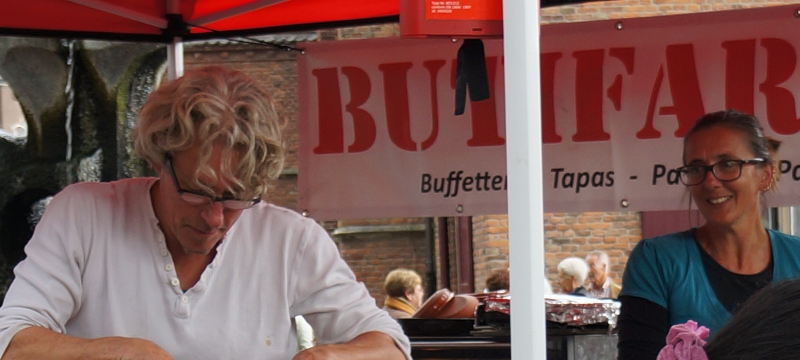 Butifarra is catering company located in Wageningen. It is run by Leonard den Boer and Sam Verkade.
Leonard den Boer
A Butifarra is a type of sausage originally from Catalonia. It is made from pork meat combined with spices of which the recipe dates back to ancient Rome. It is a solid product that represents quality and honesty of the rural Mediterranean kitchen.
From the 80's onward I've travelled a lot through the countryside of Spain and Portugal. Here I got to know the traditional local foods. These are dishes that often only consist of a few ingredients, simply because there is not much else available. Still, the flavours are amazing.
During these trips I got to know the stews from Castilie and the Northern coast of Spain, with it's different types of beans, chorizo and morcilla. I ate an amazing Cabrales, a local and flavorful blue cheese, after spending a day of climbing the picos de Europa on an empty stomach. I fell in love with the simplicity of the tapas at Bar la Pena in Granada, like raw green beans with blood pudding. And then there is the seafood! They eat everything: from fish to sea spiders. Whether it dried, salted, fried, a la plancha, in a stew or in vinegar, there is only one rule: it has to be super fresh.
On one of the terraces of Barceloneta I had a Romesco de Peix, a stew made with fish, seafood, sweet peppers and almonds. A bag of fried squid and anchovies at the Freiduria (cafeteria) at the Puerta de la Carne in Sevilla. The waiter at the opposite side of the street had the perfect cold beer to go with the dish. Through Butifarra I want to let you enjoy all this as well.
Sam Verkade
I grew up in Marken, a small village surrounded by water.
We always used for dinner, and still do, the vegetables that my father grew in his vegetable garden. Our daily meals got the proper attention. At a young age I got familiar with seasonal products and the effort it takes to grow, clean and cook all the different kinds of vegetable. And don't forget the pickling, freezing and storing of all the food for the winter.
After finishing my studies at the agricultural school in Wageningen, I worked in different bars and restaurants, most noticable as a cook in a Mexican restaurant. Despite switching careers, I work in childcare now, cooking kept calling. I ran into Leonard by accident after 20 years, we were friends when we were both studying. From the moment he started Butifarra in 2009, I have gradually become more involved in the company over the years. Cooking outside, improvising every time we visit a new location and the interaction with the guests while cooking the meals is what attracts me to the work. Halfway through 2013 I became a partner in the company.