Mediterranean buffet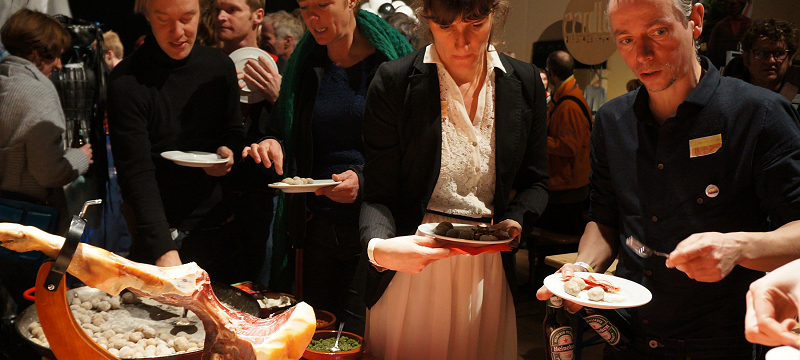 The variety of dishes that make up our Mediterranean buffet can be traced back to Spain, Italy and the Northern regions of Africa. Any combination is possible so feel free to let us know what you prefer. Guests will be able to serve themselves from a central buffet table. An alternative would be for us to serve the food on large platters distributed over the different tables.
To spike your appetite and sparkle your imagination, a few examples:
A Spanish-Italian style buffet will start with a few simple tapas like Gambas al ajillo, chorizo with apple and cider, mussels with Serrano ham and sherry, baby gems with garlic and roasted chicory. Then we can serve an array of different main courses, for example sea bass in salt or a Catalan fish stew and Pork ribs on the grill. Together with a variety of salads and salty potatoes with pepper-chili sauces and aioli or paella, this makes for a beautiful buffet. Of course we cannot forget desert: how about a strawberry/raspberry gazpacho served with fresh yoghurt ice cream…
Or
A beautiful Caponata (a sweet and sour Sicilian vegetable dish), mushrooms with garlic and tarragon and roasted courgette with lemon and feta cheese. Followed up with a creamy asparagus risotto, spicy grilled chicken with lemon, tomatoes drenched in balsamic vinegar and a green salad with avocado and gazpacho dressing.
Dessert could be a panna cotta with red fruits.
Or
A Moroccan style buffet with lamb tajine, a chicken and olives tajine and a vegetable tajine, couscous, salads and lots of vegetables. An incredibly well balanced meal full of herbs like cumin, mint, cinnamon and orange blossom.
We can present you with a personal offer based on your preferences using mostly seasonal ingredients. Just give us a call or write us an email.