Lamb or Piglet on an open fire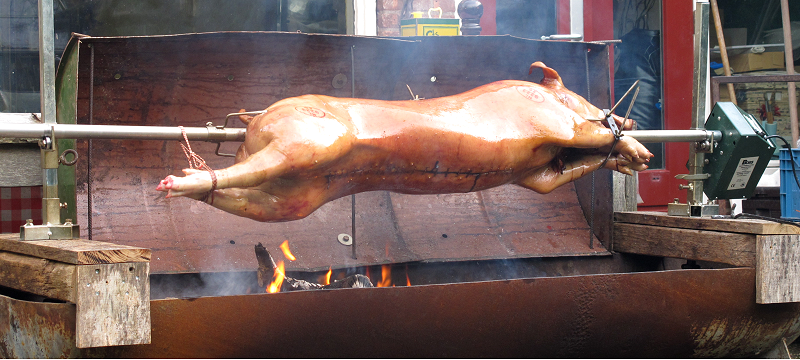 Delicious! A lamb or a pig roasting on an open fire. The meat isn't baked in the oven first and then heated above a fire. We only serve the real deal: slow cooked meat above hot coals until the outside turns crispy but the inside is still juicy and moist. We only use animals that have been able to roam freely in their living quarters and have had lots of time outside. In short, animals that have enjoyed a good life. This is of course the best thing for the animals themselves, but it also improves the quality and taste of the meat.
We get our pigs from the farm Welgelegen in Achterberg (Rhenen), or we use one of our very own Binnenveldse pigs that live at de Hooilanden in Ede.
Our lambs we mostly get from Grebbenveld Schapen.
The lambs we use are 12 between and 22 kilo's. In combination with different dishes, they serve up to 30 people. For the piglets we use animals, which start at 35 kilograms. That would be enough for about 80 people. We don't want to use smaller pigs because we believe the animal should have had a chance at a good life. Also the meat to bone ratio is not ideal within that weight class. Of course when serving a smaller amount of people it is always possible to just roast a part of a lamb or pig. Especially the shoulder parts of both animals are great!
We usually serve a roasted pig or lamb as part of a Mediterranean buffet. Which means it will be accompanied by a variety of sauces, salads and bread.