28-4-2015: It's a Spanish Affair at Villa Bloem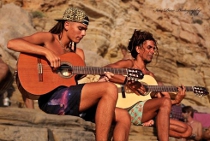 A typically Spanish affair full of passion, music, food and style. It's all about the fiesta atmosphere. A great party to experience the colour and vibrancy of a night in Ibiza.
Villa Bloem outside is an ideal location to host a party in this style, so if you are looking for something with a cultural difference then Villa Bloem Espressobar is one to check out.

★ Butifarra Catering: excellent authentic Paella made with fresh ingredients for only 10 euro (including salad and bread)
Please book the paella to avoid disappointment on info@butifarra.nl
★ Tinto de Verano, Sangrias & Spanish Inspired Cocktails @ the Villa Bloem Bar
★ Gino & Jiri Taihuttu and Sanne Jansen LIVE Flamenco Guitarists – Amazing latin music from Ibiza's resident entertainers
featuring vocals by Sanne Jansen, Wageningen's brightest local talent, singing soul tunes
★ DJ Ramos UK ( Costa Rica / UK ) https://www.youtube.com/watch?v=fWuFH7qXvHw